Обзор новой ТВ приставки Beelink GS1 6K
CONTENT DESCRIPTION
Package content
The new Beelink GS1 comes in a cardboard box with the logo of the model on top. Inside the box we have the device in the upper part, the rest of the accessories are housed in separate boxes with IR remote, HDMI cable, manual and a 5V 2A power adapter.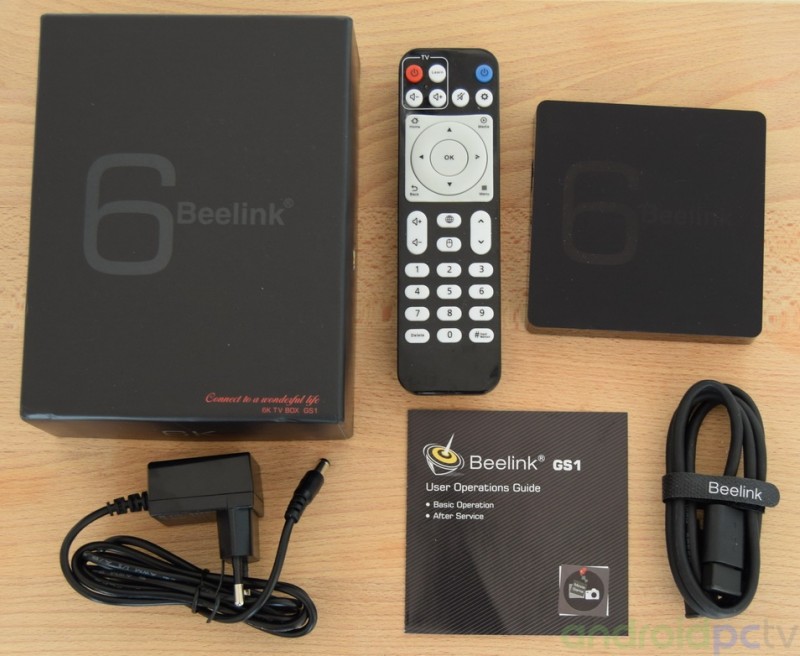 Product Details
The Beelink GS1 chassis is made of plastic and the upper part has the logo of the model, the edge of the box is shiny and the upper part matte, the dimensions make it very compact and have a light weight. In the front part behind the dark plastic an IR receiver hides and one side has the status LED.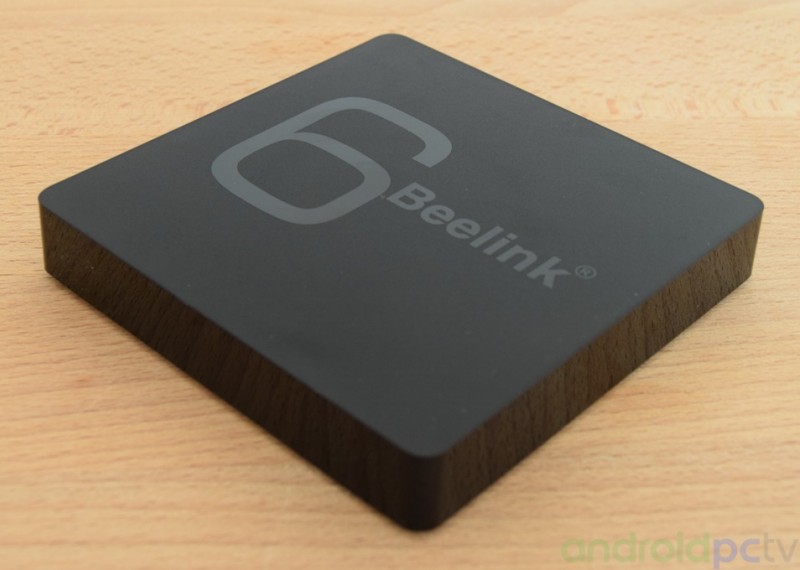 On the side where we find a microSD card reader with the typical self-extracting mechanism, next to it we can see one USB 3.0 Type-A conventional port.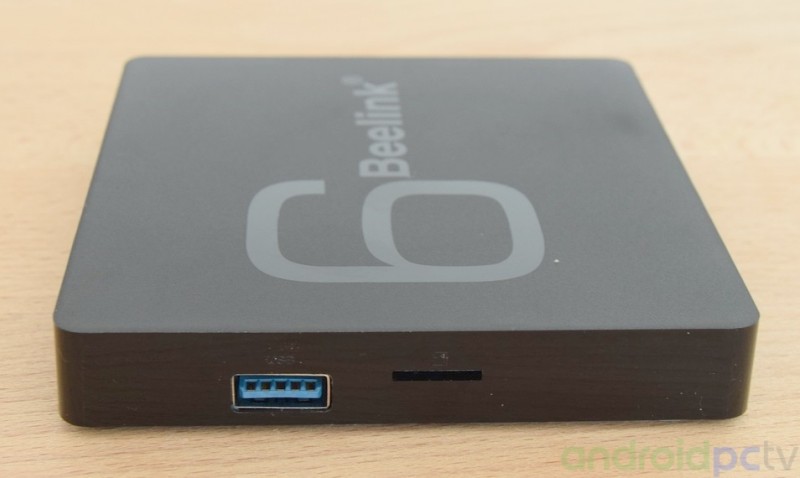 On the next side we have a DC-IN connector, a USB 2.0 port, HDMI 2.0a that allows resolutions up to 4K@60fps, Gigabit Ethernet, and finally the SPDIF audio output.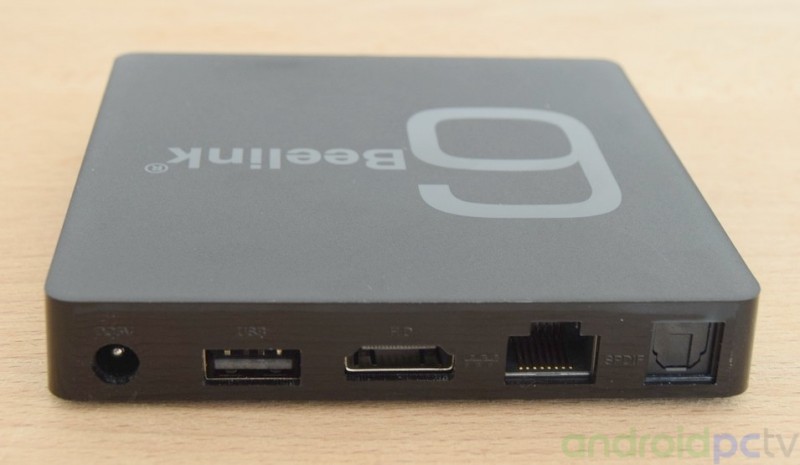 In the back of the Beelink GS1 we have four plastic legs that raise the TV-Box minimally to improve ventilation, in one of the corners we have the reset button that allows to update from a PC if necessary.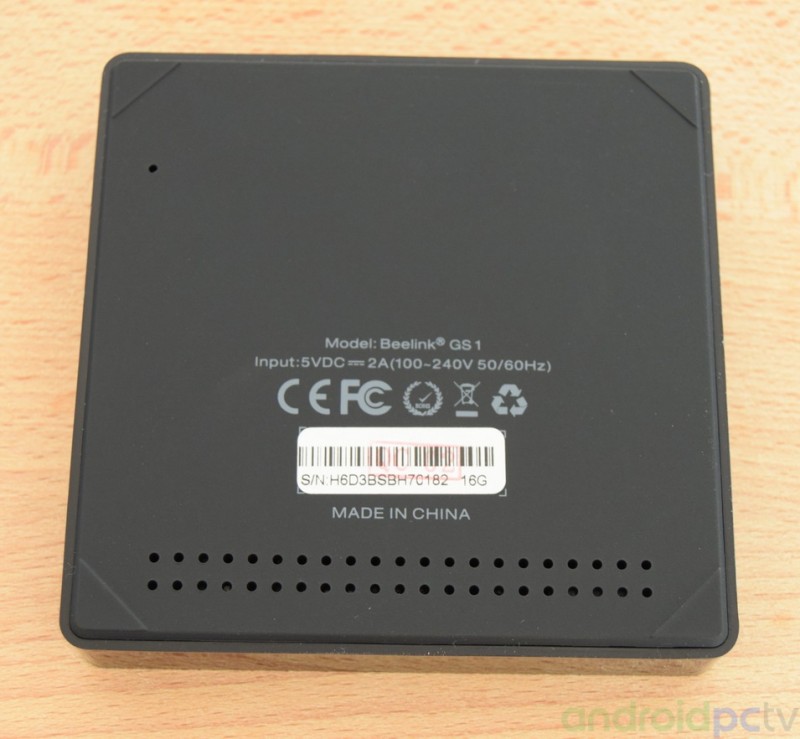 Beelink GS1 Hardware and Performance
Let's start with the performance on a Full HD TV. Here was the Beelink GS1 TV box play everything that I have set before her. This applies to playback via KODI or via the regular media player. In general, the user interface is sufficiently fluid. KODI made e.g. not the impression to run at the limit.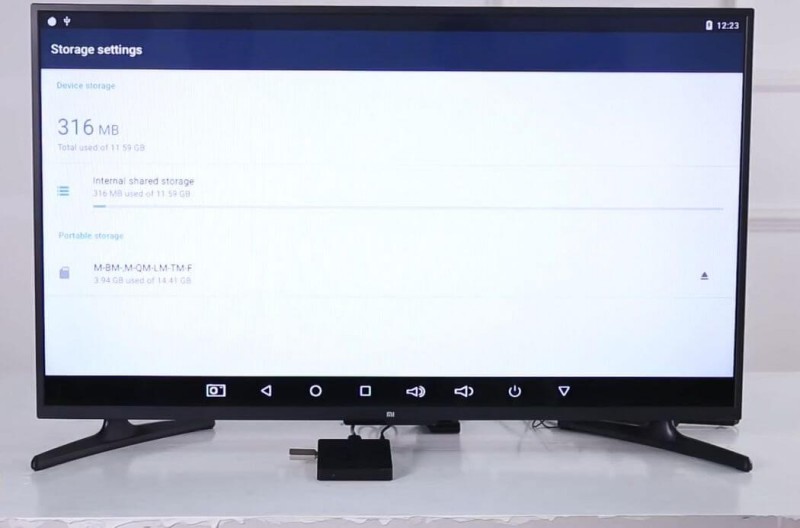 Positive is also the fast network connection noted. The GS1 has both GBit LAN and 5GHz WLAN.
In short, at Full HD there is nothing to complain about the performance.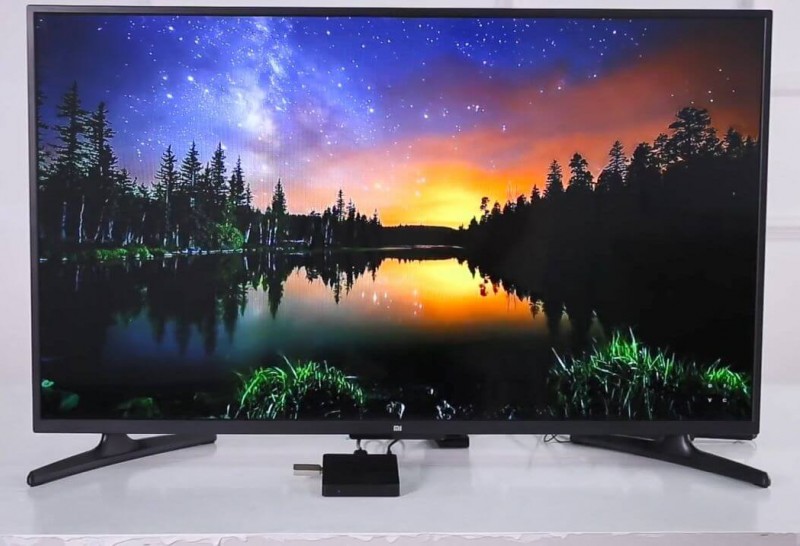 At 6K, however, this looks a bit different. On the positive side, the Beelink GS1 TV Box can also display the user interface in 6K. Many 6K-capable devices cannot do this and only switch to the higher resolution when a video is detected.
The problem, however, is videos. Youtube in 6K certificate not possible, at least not on the Youtube app. Even filmed material jerky and the same applies to previously downloaded on Youtube videos.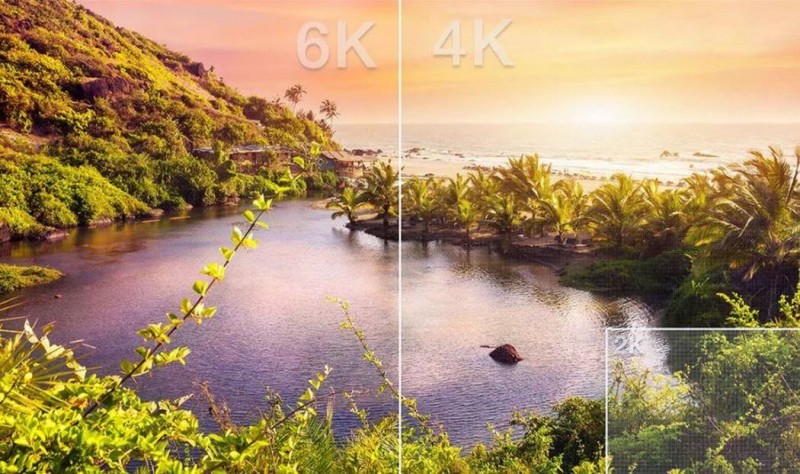 Then the TV box is useless at 6K? No, not quite it seems here very much on the video format. If the H.265 codec is used (in this case in the MKV container) the Beelink GS1TV Box will also play 6K video smoothly.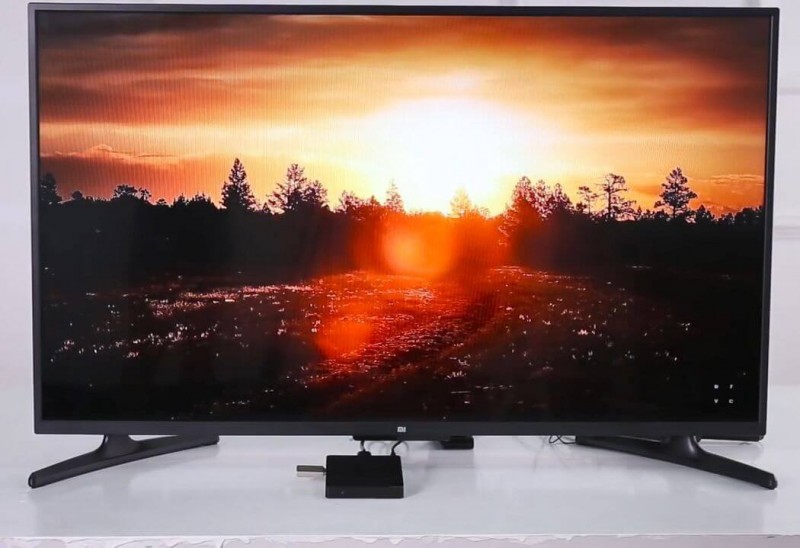 However, it will be hard to get content in this particular format. Therefore, I would tend to recommend the Beelink GS1 more for 4K video. Perhaps the thing is interesting for users of a 6K TV, that the UI is displayed in 6K. Most videos are anyway in 4K, so 6K UI + 4K video function easily.
TEST BENCH
Video and audio connections.
As we have seen in the Beelink GS1 we have integrated the new SoC Allwinner H6 a product that has video output support for HDMI 2.0a which gives us the option to see content with a maximum resolution of 4K@60MHz with 10 bit of color , in the settings we miss brightness, contrast or saturation options.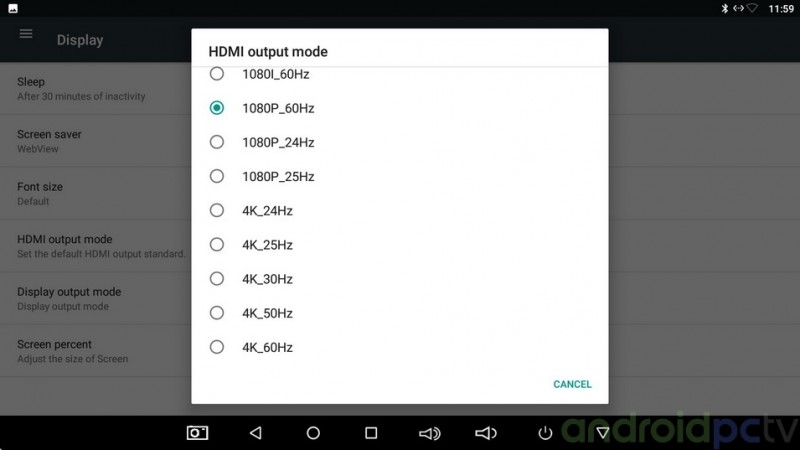 In this system there is no automatic refresh rate adjustment option, something that would be interesting since it avoids us to reproduce contents with the annoying Judder effect.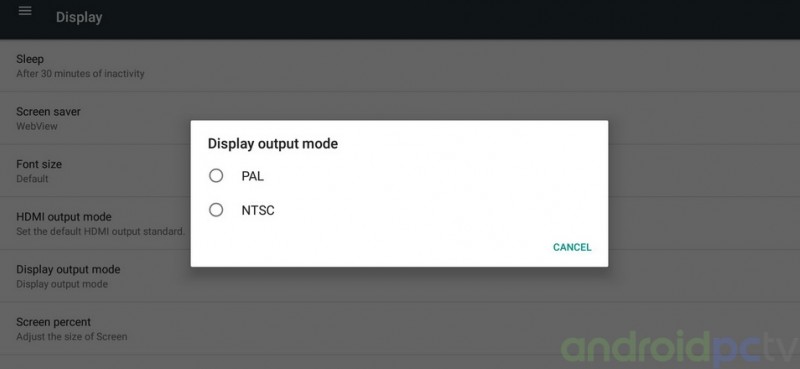 Within the advanced screen settings we have support to change the RGB mode something that is necessary in some old TV models that have incompatibility with the current color modes, we also have color modes up to YUV420 10bit and automatic management option.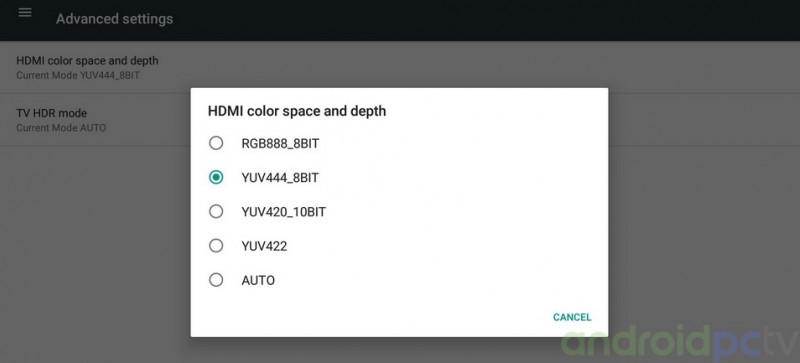 In this section of the settings we have the HDR modes, an interesting point because with this menu we can force it globally for the whole system if necessary.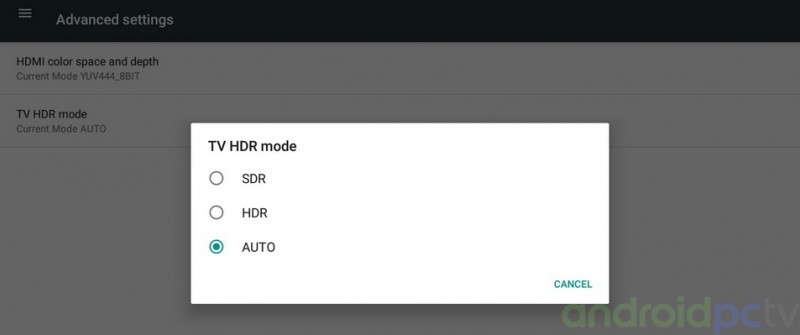 DLNA and Miracast
Installed in the Beelink GS1 we can share the screen using the Miracast app the system connects and we can transmit the image correctly. As we always say these Miracast systems depend on many factors.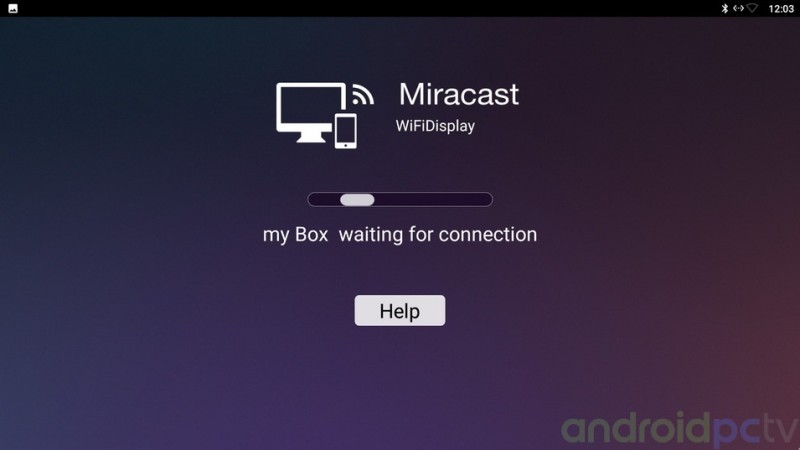 Webcam
We perform videoconference tests on the Beelink GS1 using the Skype app, the results are correct in both audio and video, we use a simple webcam Logitech C170, good results in general are correct.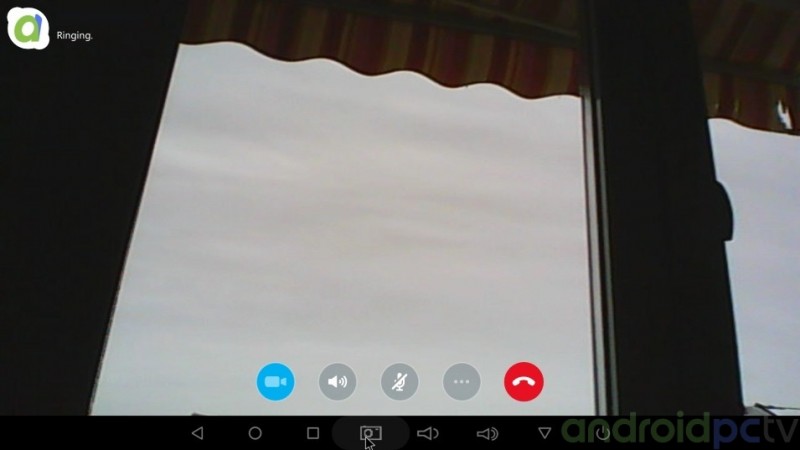 Производительность Beelink GS1 в играх
Благодаря, новому 4-х ядерному процессору Allwinner H6, 2 ГБ оперативной памяти и видео графике Mali-T720MP2, Вы сможете без каких либо проблем поиграть в современные требовательные игры.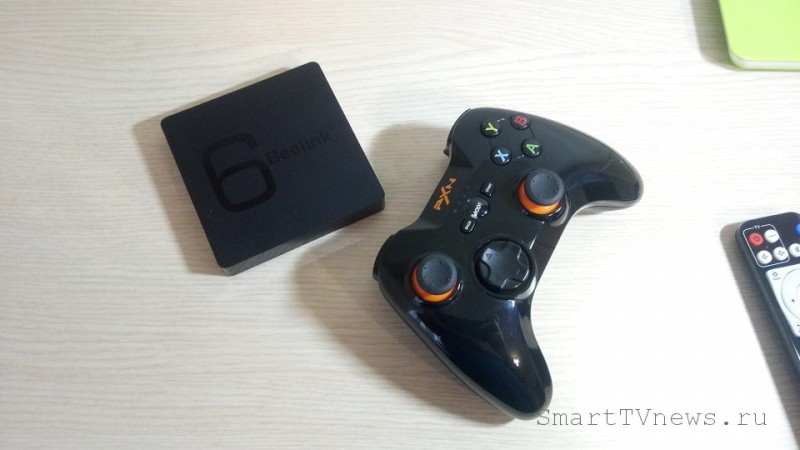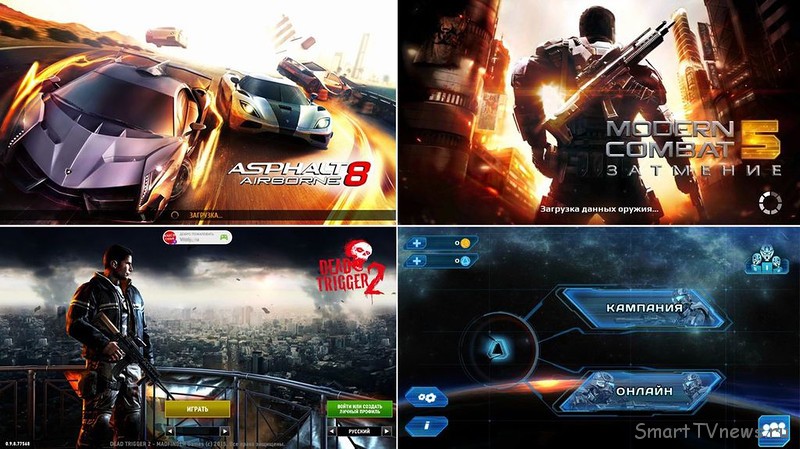 Wi-Fi
Для работы Wi-Fi используются диапазоны 5G и 2.4G. Работа порта Ethernet обеспечивается на скорости в пределах 1000 Mb. Не возникает никаких проблем как при подключении как первым способом, так и вторым. И оно поддерживается на должном уровне.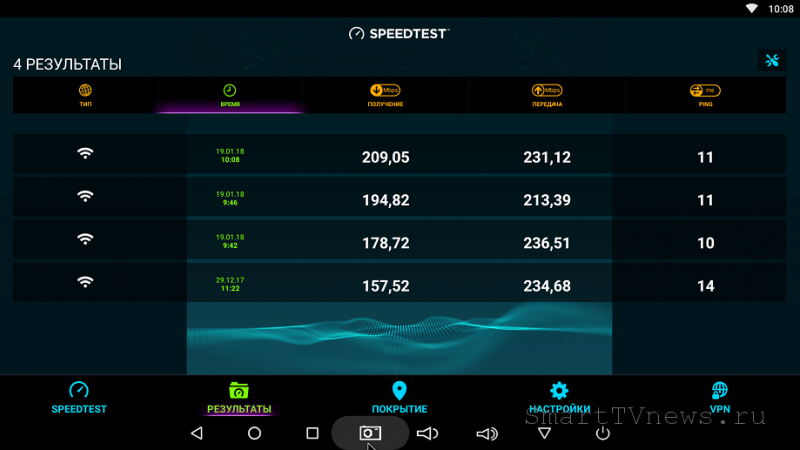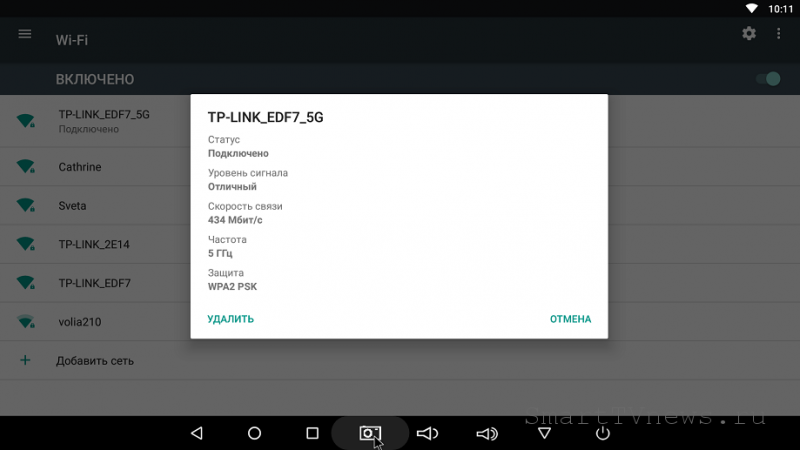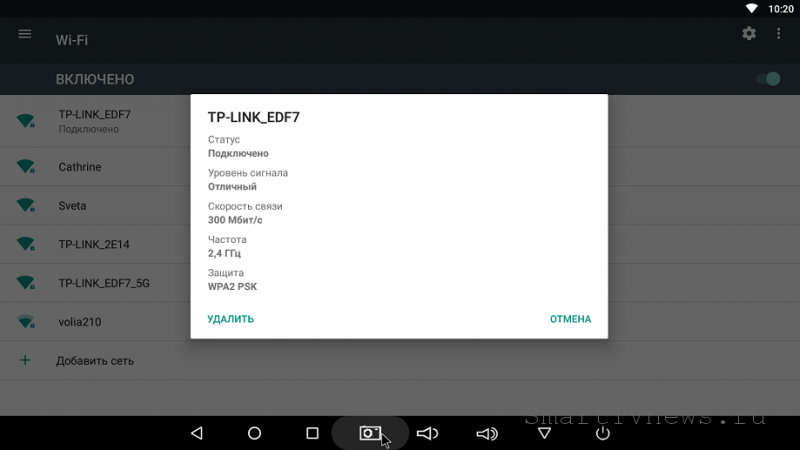 Нагрев
В простое, приставка прогревается максимум до 45 градусов, а при просмотре фильма или запуске требовательной игры, температура достигает 60-65 градусов, что в полнне неплохо.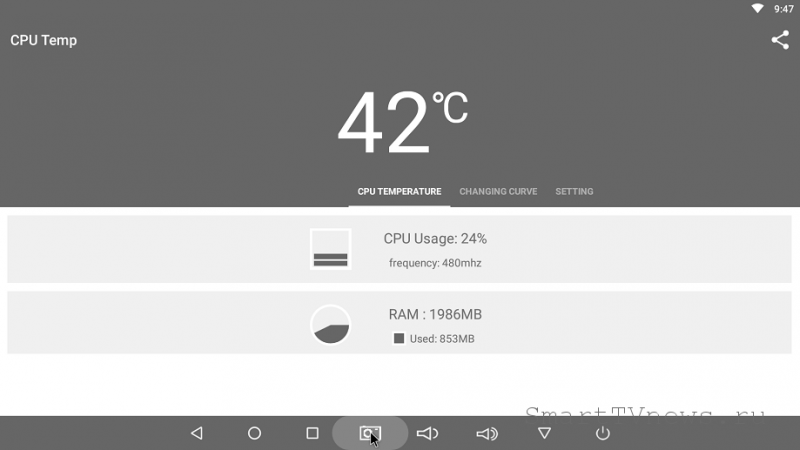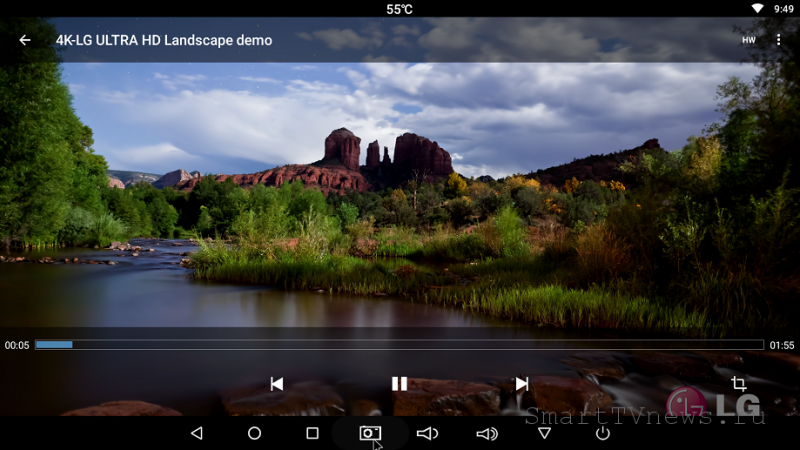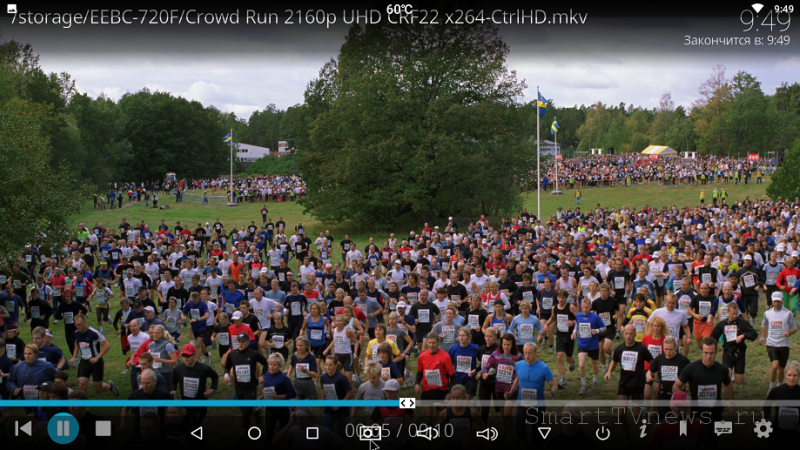 Выводы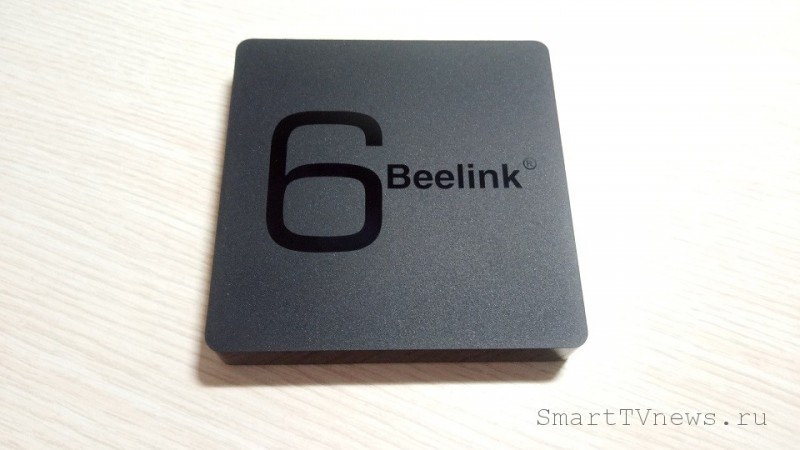 Общее впечатление, оставленное ТВ-приставкой Beelink GS1 можно без преувеличения считать положительным, и в пользу этого говорят многие факторы. Для ее работы используется процессор Allwinner H6, что делает возможным воспроизведение любого видео. И 4К не является исключением.
Гаджет без проблем может быть использован в качестве обыкновенной медиаприставки, используемой в процессе просмотра видеороликов на Youtube. То же самое можно сказать про онлайн-кинотеатры, каналы ТВ, интернет-серфинге и еще большом количестве не очень сложных задач.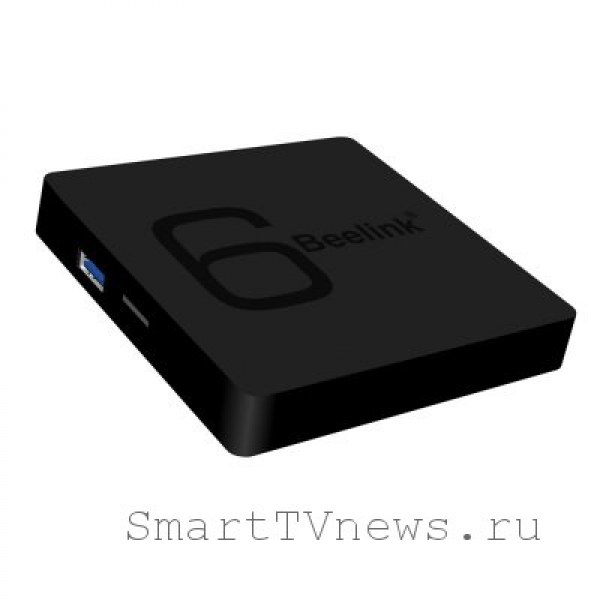 Beelink GS1
Allwinner H6 – 2/16ГБ
$64.99
GBGS1
NETWORK CONNECTIONS
Wi-Fi and Ethernet
Installed in the Beelink GS1 we have a Dual Band AC Wireless Wi-Fi Adapter and Gigabit Ethernet chip, with which we have connected with an ASUS RT-AC1200G+ Router, a mid range device. We transferred files over a SAMBA network connected through 2.4Ghz Wi-Fi and achieved a speed of about 36 mbps, with the 5Ghz Wi-Fi network we reached about 59 mbps a value that can be improved. This model has a Gigabit network connector with which we used a Category 6 network cable to guarantee the speed, using this connection we reach about 168 mbps. The correct figures within this protocol.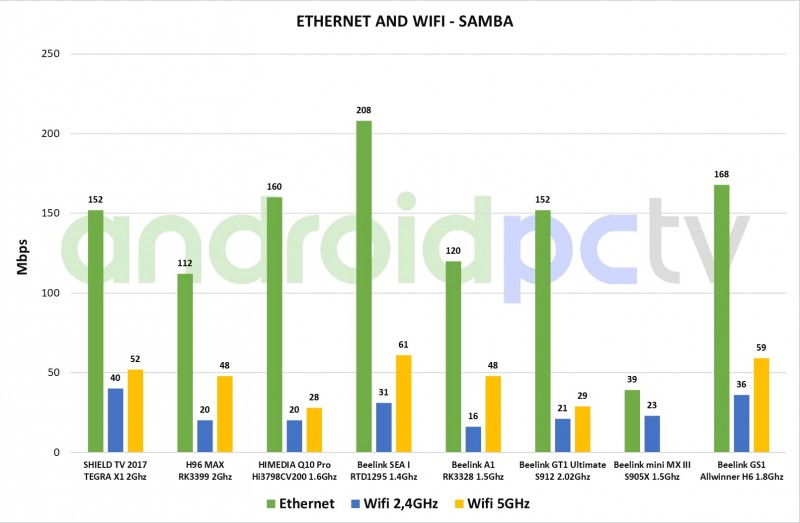 We also ran tests on the network adapters for streaming using the iPerf measurement tool with which we have the maximum connection speed in each type of network. With this figure we have how far we can reach using the available connections, the final performance will depend on our internet provider, the contracted speed, the distance of our Wi-Fi network and other factors. The results are correct and undoubtedly highlights the 5 GHz Wifi adapter and the Ethernet Gigabit port.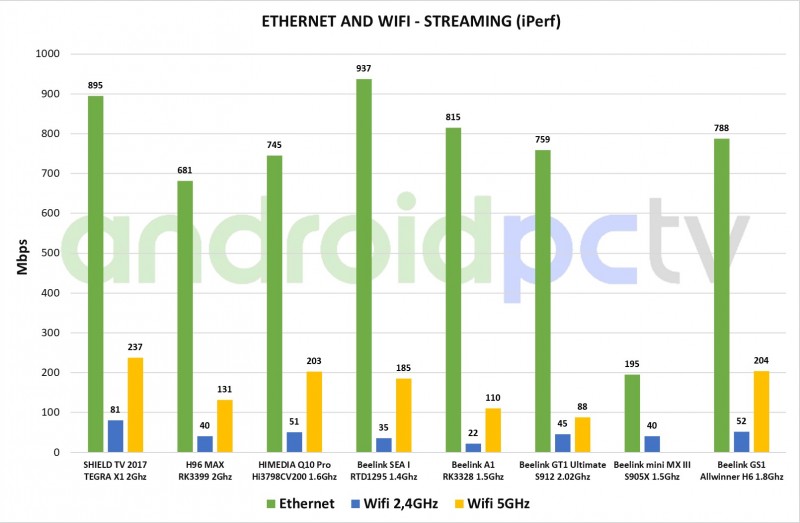 In our tests of wifi coverage with the equipment as always located at a distance of about 5mts and with a wall we verified that we have connection without cuts, the signal reaches a good level with about 28 dBm, an excellent result for an internal wifi antenna.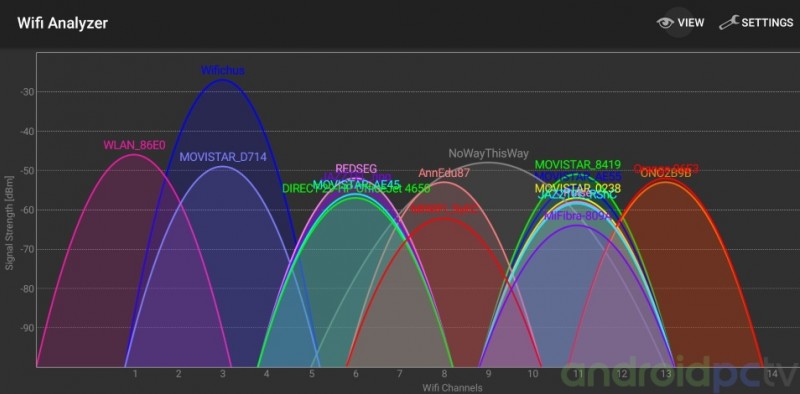 Bluetooth
Integrated with the WiFi adapter of the Beelink GS1 we also have Bluetooth 4.0 connectivity with which we have no issues detecting other devices, we have tested a few helmets BT and some one gamepad BT without major problem.

CONTROL SYSTEMSRemote control

By default with the Beelink GS1 we have a basic IR remote to handle the device, is powered by two AAA batteries. Apart from the usual keys we have several keys to clone functions of other controls, in the back we have a text that explains how to do it. If we keep pressing the Home button appears the multitasking function to change the active app, we also have mouse function to move the pointer with the central crosshead.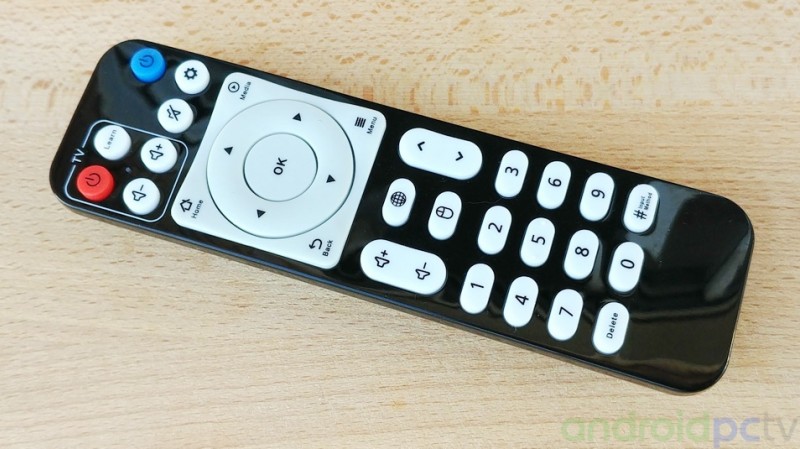 Remote control app
In the Beelink GS1 we do not have by default al remote control app. We can use CetusPlay as an alternative to control it from our mobile, that app offers to us some good functionalities, we just have to install the server on the box and the client on our remote device, we need to be connected to the same local network to work properly.

Gamepad and games
To control games on the Beelink GS1 we connected an Xbox 360 Gamepad and the device recognizes it without problems, it also works correctly the Xiaomi Bluetooth Gamepad. We can use them in games with this type of support, in general we will not have problems with conventional PC controls. With the GPU Mali-T720mp2 that incorporates this SoC Allwinner H6 the performance is something fair in heavy games where we notice that they drop some frames per second, in conventional games we are not going to have this problems.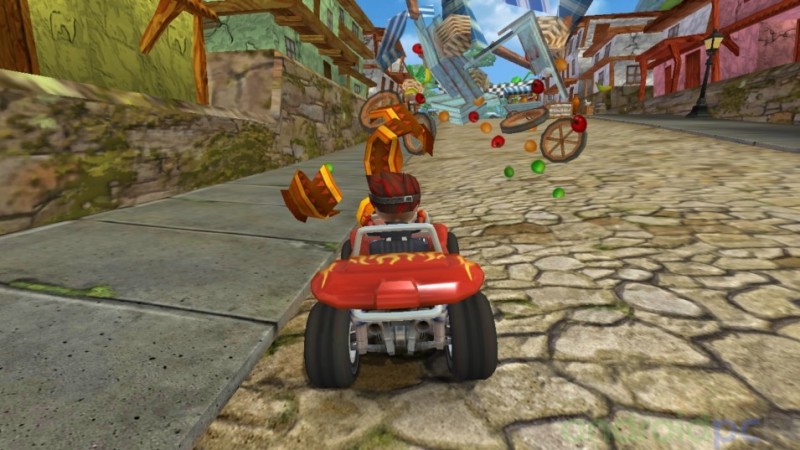 WEB NAVIGATION AND STREAMING
Navigation
We pass some performance tests on the Beelink GS1 using the standard browser where we have no problems opening a good number of tabs thanks to its 2 GB of DDR3 RAM. Content that is rendered in HTML5 does not have major problems with the included serial browser that is Chrome.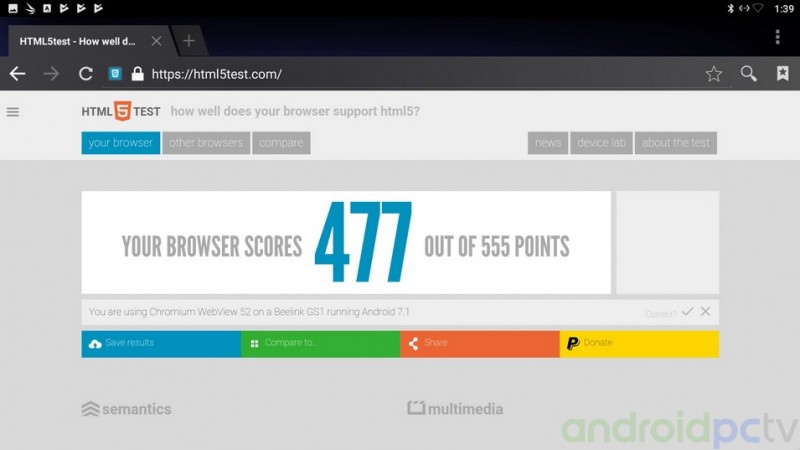 DRM
As for the DRM certificates needed for some paid streaming apps we do not have any installed series, something habitual in this type of models, as novelty we see that we have CENC ClearKey .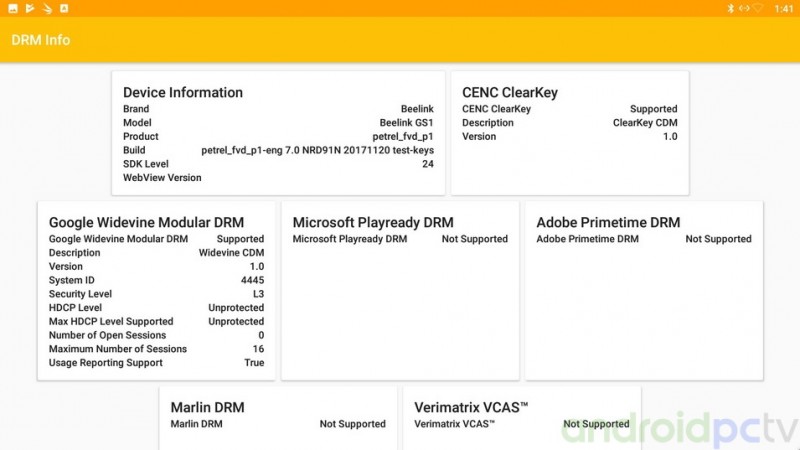 Youtube and streaming apps
From Google Play we installed some of the most common Streaming apps to watch TV online and we have no problems. By default we have Youtube up to 1440p, although at the most we will really see it at 1080p.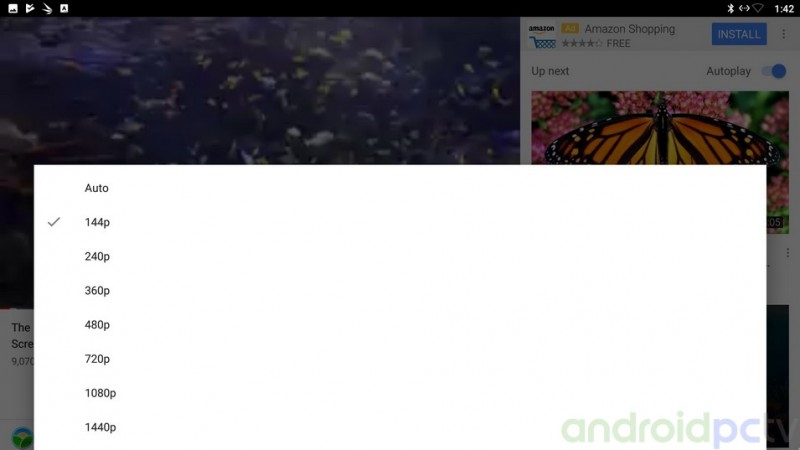 Streaming services with subscription
We do our battery test as usual on the most popular streaming services to verified if can work correctly, the power of this device is more than enough to see any type of content on this services, although as we know we are limited on the streaming quality for the restrictions of each company.
NOTE: This device don't have support for Netflix HD any more
NOTE: We remind that these TV-Box do not have official support for these streaming apps, the compatibility with these services can vary depends of any new limitations imposed for this companies. The tests are perform with the indicated firmware and the version of the streaming app at the date of the review.
| | | | |
| --- | --- | --- | --- |
| Streaming service | Video | Audio | Performance |
| Netflix | SD (480p)* | Stereo | Correct |
| Amazon Prime Video | SD (480p) | Stereo | Correct |
| HBO | – | – | Not working |
For more details consult our Guide for Netflix on Android, inside you can found a solution for Error 0013 and installation method on rooted devices or chinese TV-Boxes.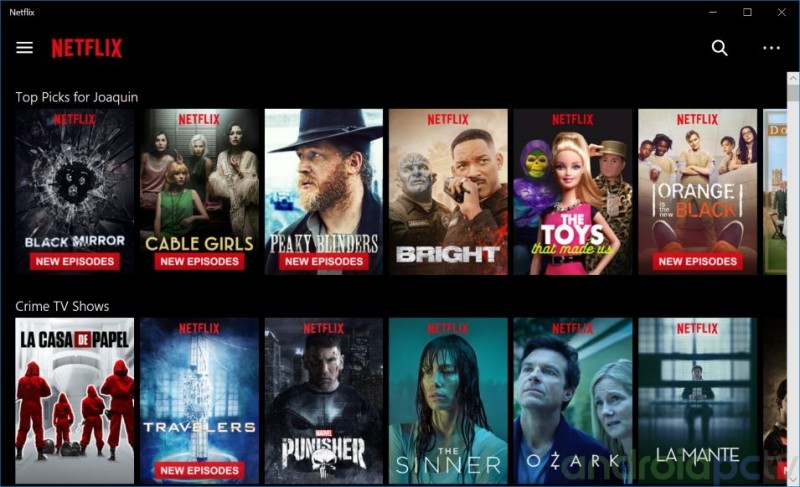 PERFORMANCE TEST
SOC
Installed in the Beelink GS1 we have the new SoC Allwinner H6 that includes four processors ARM Cortex-A53 of 64bits and a GPU Mali-720 with two nuclei shader core. A medium-range SoC that theoretically reaches up to 1.8 GHz although it arrives very occasionally and normally at most works at 1.5 GHz. This SoC incorporates Hardware decoding support for the H.265, VP9, 10-9 video codec bit of color and even HDR, is able to playback video at 4K@60fps thanks to the HDMI 2.0a video output connector. As we can see in the following tests at performance level is close to Amlogic S912 which is not bad.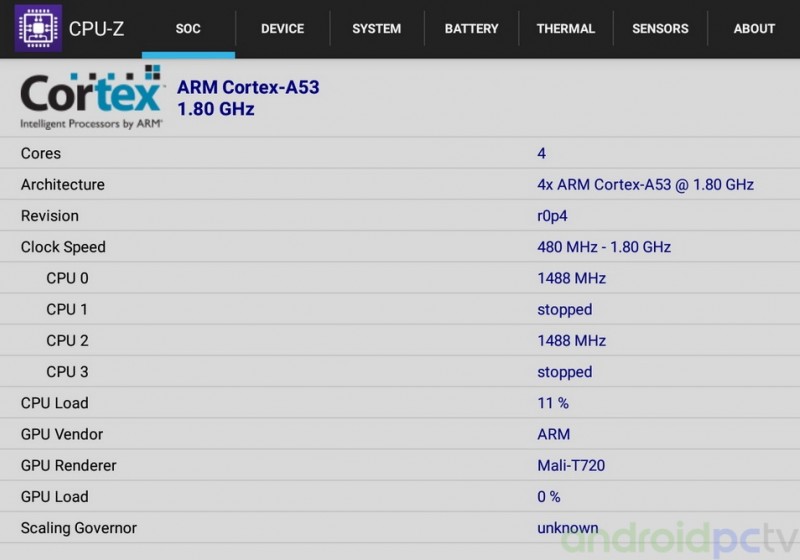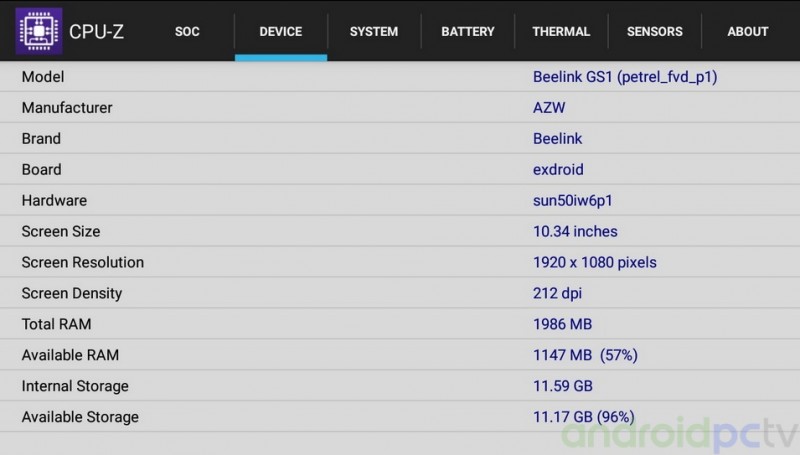 Antutu
With this famous test we get an idea of the general performance of the device and we can compare it with others. Since this tests changes a lot of scale we can not use it in our graphics.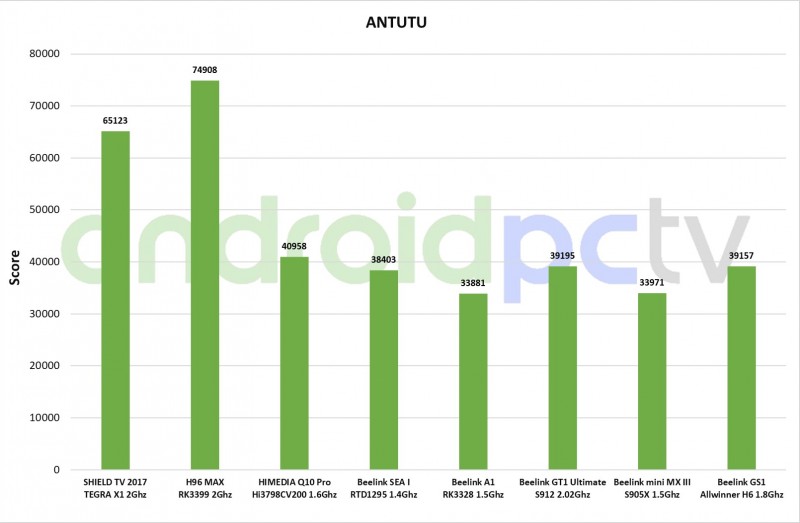 Geekbench 4
A new benchmark in SoC testing that offers fairly reliable numbers of CPU's working in a single core or multiple cores ate the same time, it also has a section of GPU computing that gives us an overall result of the processing capacity.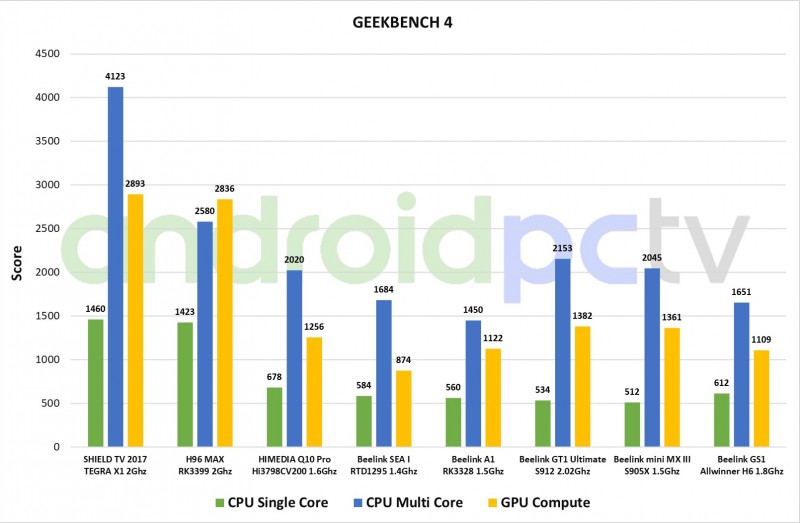 3Dmark
The graphical performance test par excellence with a fairly solid continuity in the results which helps us to compare the performance of GPU's historically.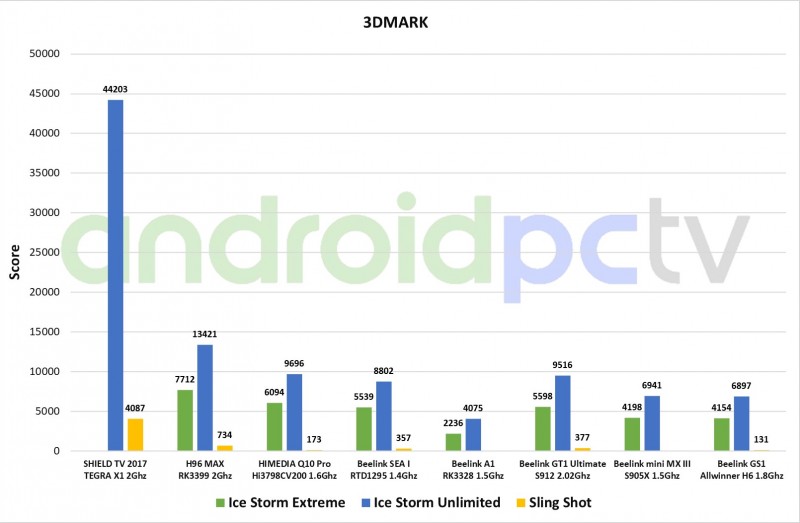 PCMark
This benchmark tests the device in various scenarios of image processing, web browsing and other everyday uses of our device, the results are useful to check if you defend well in these areas.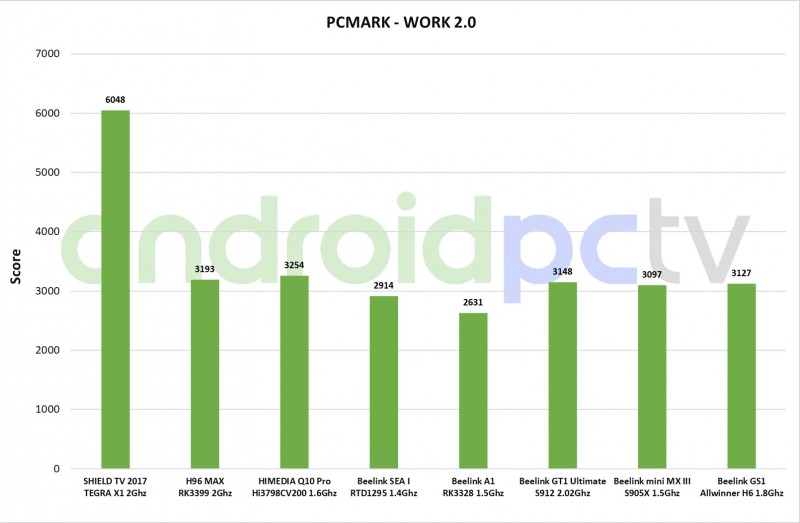 CONCLUSIONS
Opinion
As you see on the Beelink GS1 review, we can say that this is a good TV-Box, the overall performance is good and the firmware is stable. Also in the hardware section we have USB 3.0, Wifi ac and a Gigabit Ethernet port that ensures any type of streaming. The image quality is also very good thanks to the dedicated video chip of the Allwinner H6 that supports all the current file formats without flinching and is natively compatible with KODI.
The Beelink GS1 system based on Android 7.1 as we have seen has few modifications and comes quite clean. On the other hand it is a pity that we do not have automatic refreshment change and as we have seen the native player does not exploit the maximum video capacity of this SoC leaving it in its basic functions. Undoubtedly one of its strengths is in the ability to playback Netflix in FullHD quality which adds some good points. In general, a very interesting device that could be excellent with some small improvements in your system.
Beelink GS1 Review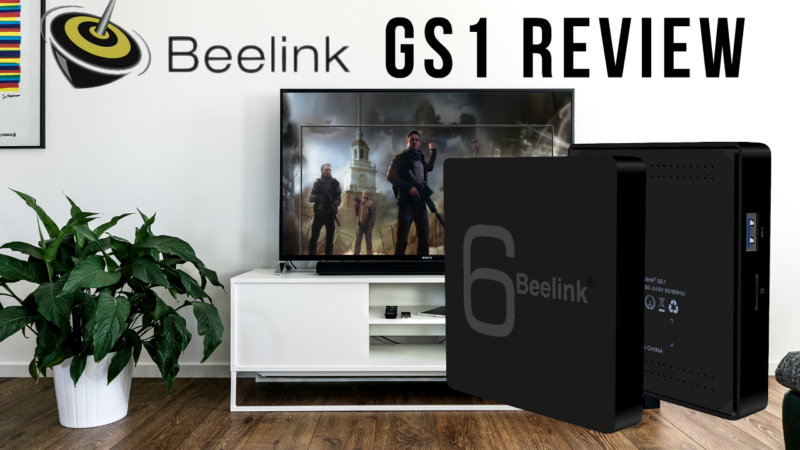 Once in a while a TV box comes along with something new, and today it's the Beelink GS1 6K Allwinner H6 Android 7.1 TV Box. This is the first 6K Android TV box for 2017 and it runs on the new Allwinner CPU and hardware, so in my usual style I'll be going through its hardware and features along with benchmark scores and  user experience comments.
Advertisement
Difference in Hardware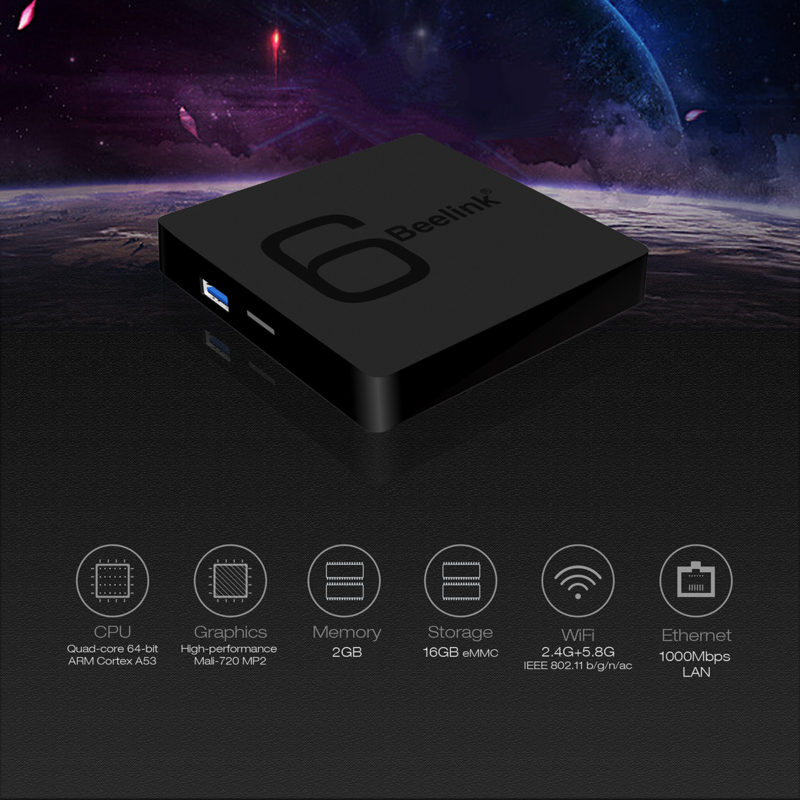 Cool Cold TV Box cooling fan
Rii Mini Wireless Touchpad Keyboard
The Beelink GS1 sports the new Allwinner H6 CPU with is a quad core (4X) CPU running up to 1.8 GHz. Most Amlogic S912 TV box boxes carry the ARM octa core cortex A53 CPU that only reaches up to 1.5 GHz. The Alwinner H6 however has a maximum CPU clock range of up to 1.8 Ghz with support for the Mali T720 MP2 ( dual core ) GPU running up to 650 Mhz. It runs on 2GB of RAM, the DDR type has not been revealed, and 16GB of internal storage. Now looking at these specs and from experience with box boxes with higher specs, you might take Beelink GS1 for granted as in the hardware world, more powerful hardware equals better performance and a better user experience. However, this is not the case in this instance, software optimization comes to the forefront as I have seen the Beelink GS1 out perform boxes with much higher benchmarks.
Software optimization is key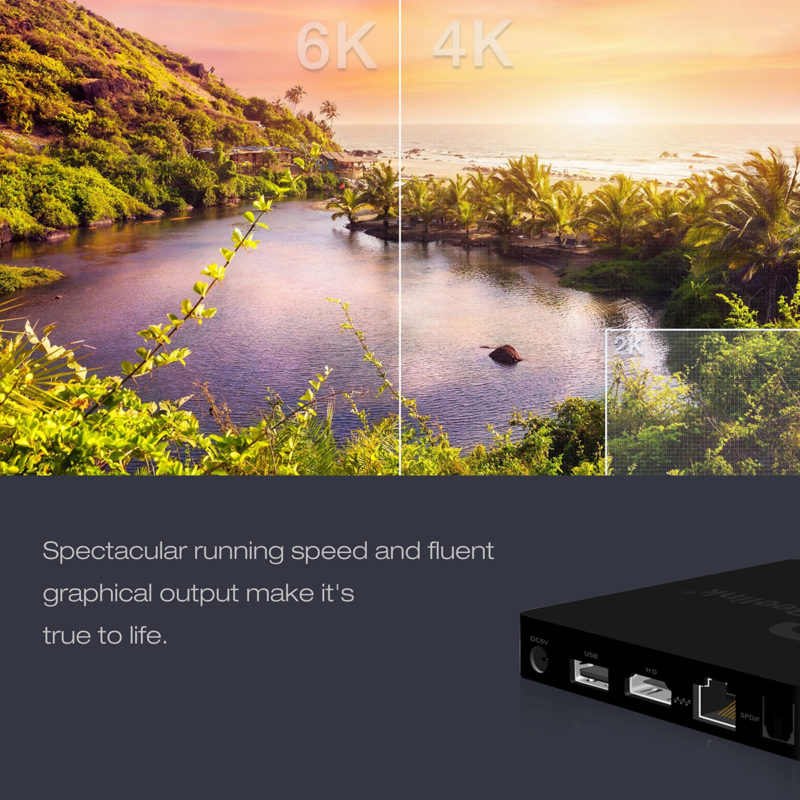 So in the Beelink GS1 I experienced three things different from the other S912 TV box that proves my point. First was my experience with the 4K video samples. The box was able to play all of my 4K video samples with the exception of 1 Jellyfish video at 400 Mbps bit-rate. I don't know if the issue was with the player itself or the software optimization because in the Zidoo H6 it ran perfectly. The second thing I noticed different was that YouTube could now play in 2K quality, something Amlogic S912 boxes has not been able to achieve or implement if I am mistaken. The third thing I noticed is that the root and permissions issue in most of the rockchip boxes where I couldn't use key mapping apps to play Android games that require touch screen function was fixed, and I can now play any Android game and I mean any Android game using a regular gamepad and a key mapping apps.
Entertainment the essence of TV Boxes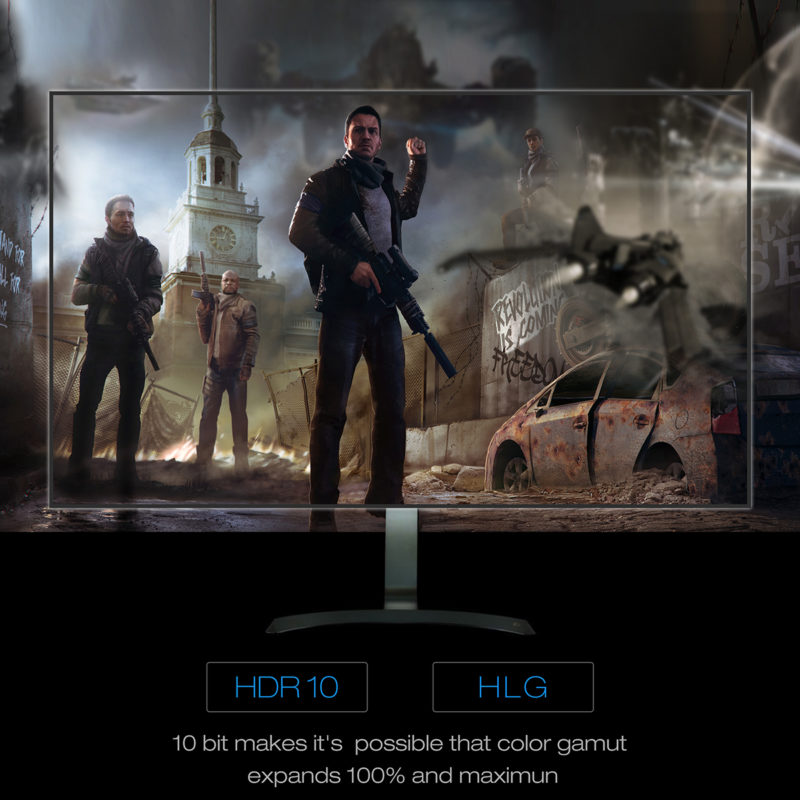 Well one thing on this box that didn't change was the ability to watch free movies and TV series. None of these services come pre-installed on the box, but you can easily install them from the Google Play Store. I installed Kodi and ran some third party addons and watched free movies  and TV series for days. I also installed some movie streaming APK's, these also ran great with unlimited streams of movies and TV shows. I tried a new application called Stremio. Stremio is an exciting new platform that has similar features like Kodi where you can install addons. Addons are much easier to install than Kodi simply click a link and and it's done. The interface is also easier to use than Kodi, similar to what you would see on Android TV boxes.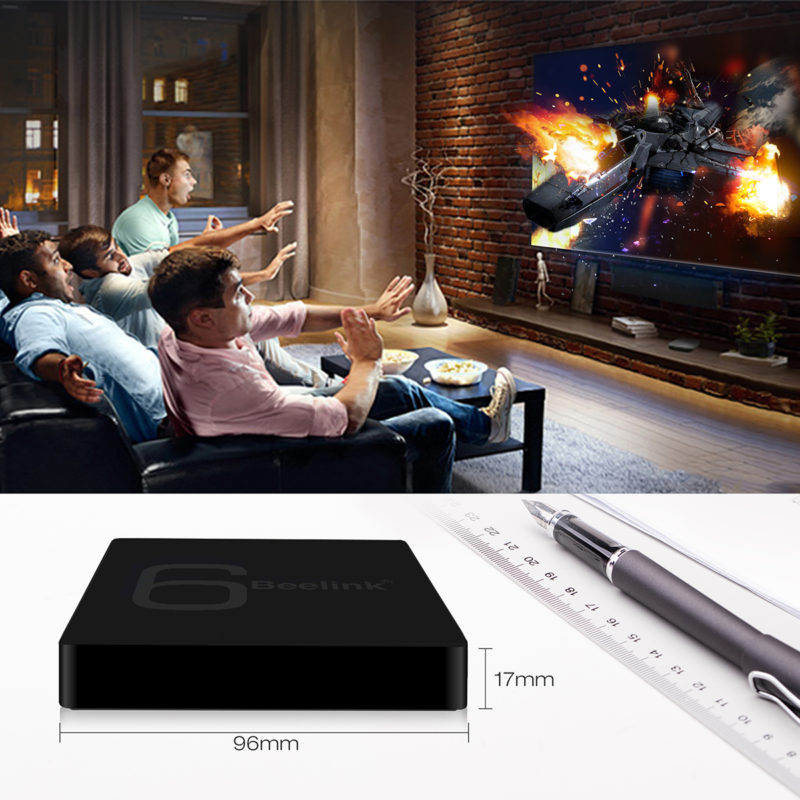 Benchmarks
Antutu – 42595
Geekbench4 – single core – 682    multi core – 1606
Ice Storm Extreme – 4236
RAM copy – 3315 MB/s
ROM speed – read 74 MB/s and write 41 MB/s
Conclusion and user experience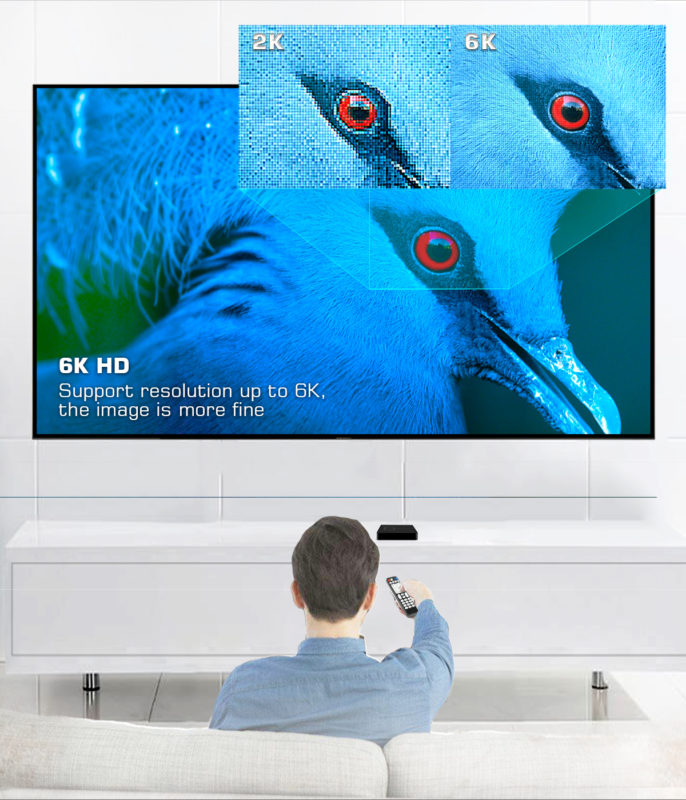 After testing and using the Beelink GS1 to watch movies and to play games, the Beelink GS1 passed most of my test with the exception of some rendering issues on one of my 4K video samples at 400 Mbps bitrate. The box did not overheat, and it even ran cooler when I used the new Cold Cool cooling fan especially designed to cool TV boxes and routers. As for play 6K videos I was not able to find and play any samples as files were too large and the format was not in MP4 format. All in all the the Beelink GS1 is a good TV box to buy and remember to look out for future updates from Beelink.
Beelink GS1 Packaging
Let's start where from you get this box. On the one hand, offers a dealer at GearBest this for about $60, I suspect this sends the Beelink GS1 but also from China.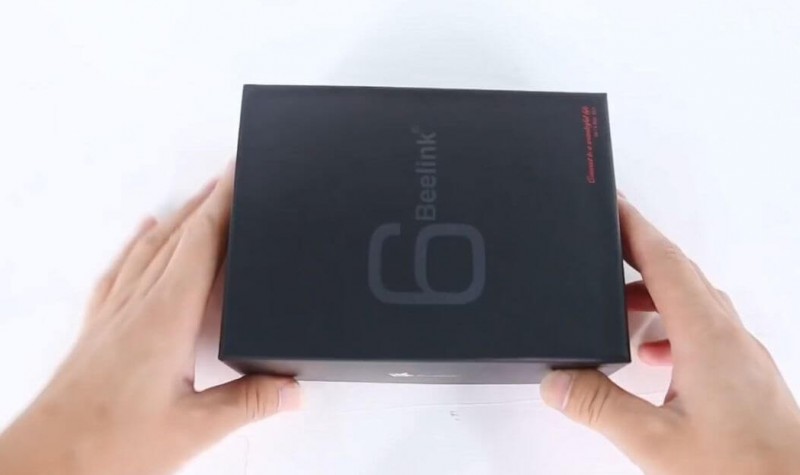 On the other hand, the Beelink GS1 TV Box can be found on AliExpress. I have mine from Gearbest though. Although this is about $5 more expensive than at various AliExpress dealers, you can take the "Europe Express" in Gearbest.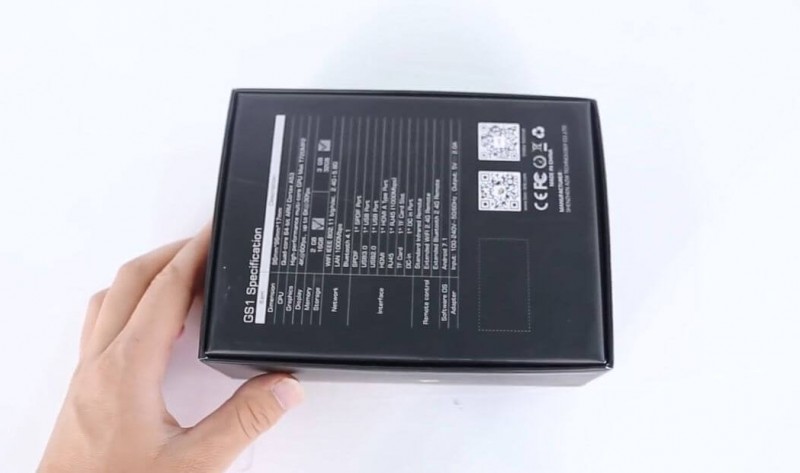 As we are above a value of less than $60, the Beelink GS1 6K TV Box will incur customs and the associated costs. Gearbest, as one of a few dealers, offers the possibility to have its products cleared before. In this case, you have no extra charge to pay and the Beelink GS1 TV Box comes directly to you without you have to report to Customs.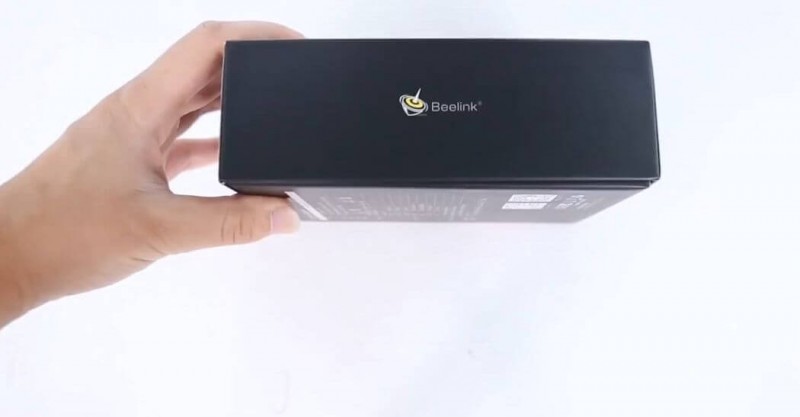 This massively reduces the problems with orders from Asia!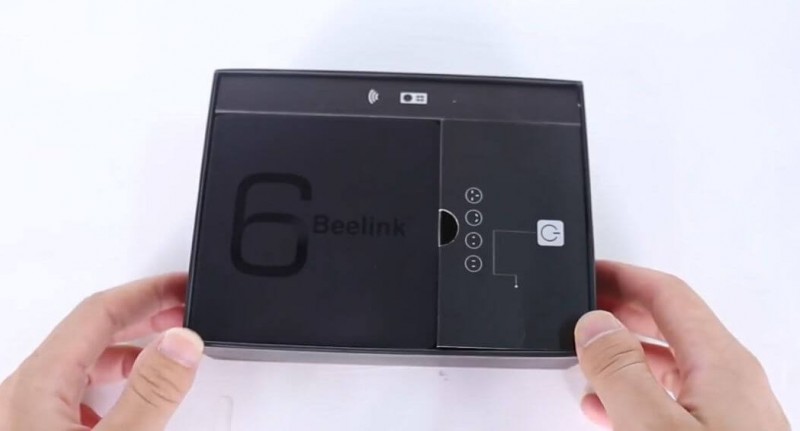 Pay attention to the order on the European plug! Otherwise, you have to order an adapter.
The scope of supply of the Beelink GS1 TV box falls out as expected. A 5v power supply, the TV box itself, a remote control and an HDMI cable.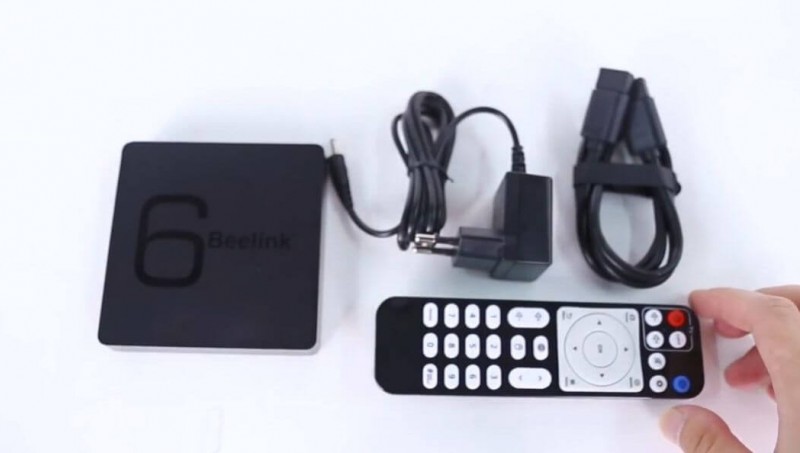 By the way, batteries for the remote control are missing.
Beelink GS1 Software
The Beelink GS1 TV uses a heavily modified version of Android 7.1. This version has been optimized for use on a TV.
In addition to the usual features such as the playback of local media, it is also possible to stream videos over the Internet or to download apps from the Play Store.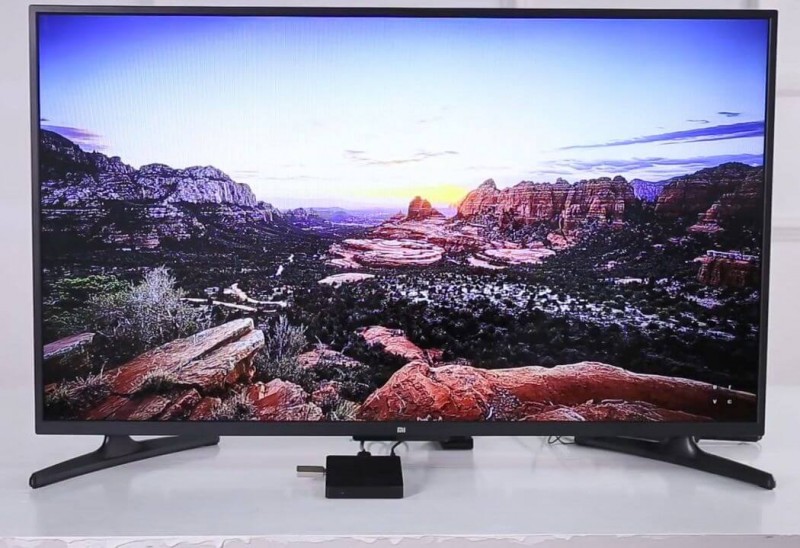 Yes, the Google Play Store is pre-installed with several other Google Apps, such as Youtube. Unfortunately, there is already the first disappointment, most apps cannot be installed on the GS1 6K TV Box in our review.
To the apps which can not be installed is unfortunately also Netflix. However, KODI is already preinstalled and works pretty smoothly.
Beelink GS1 Conclusions and Reviews
Some things are just too good to be true. This also applies to a low price for the first 6K TV box. Although the Beelink GS1 quite 6K, but you have to pay attention to the video material used here.
And 6K video is not that easy to get on the TV box. The Mobile Youtube app does not seem to support 6k and Netflix, for example, cannot be installed.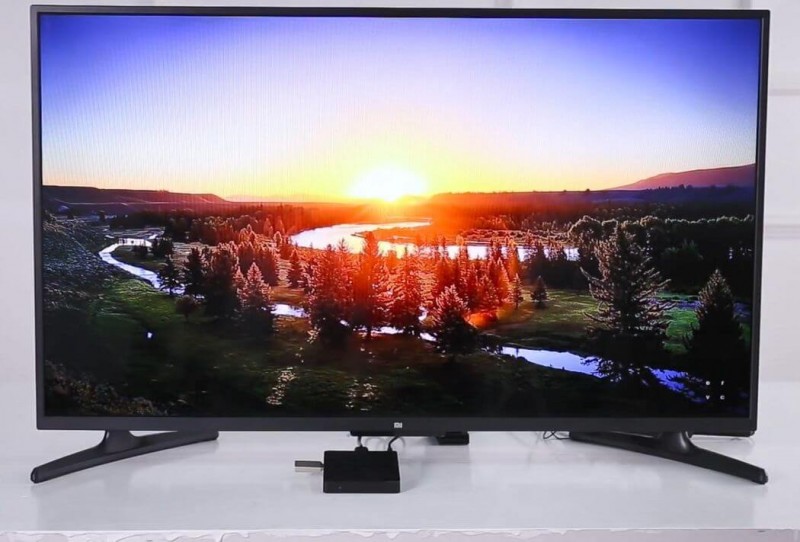 What works well is e.g. KODI. Although 6K video brings the box quickly to its limits, 4K video is not a problem.
In the end, I would recommend the Beelink GS1 TV Box primarily to "hobbyists" and users who are familiar with KODI and appreciate it. The average user is safe with an Amazon Fire TV, although much more expensive, better served.
Beelink GS1 Design and Appearance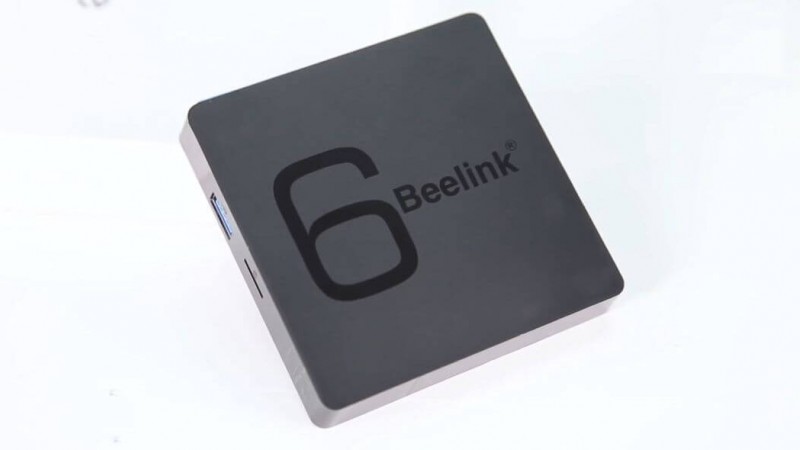 The optical appearance of the Beelink GS1 TV Box is rather inconspicuous. It is a small black box with a lot of connections.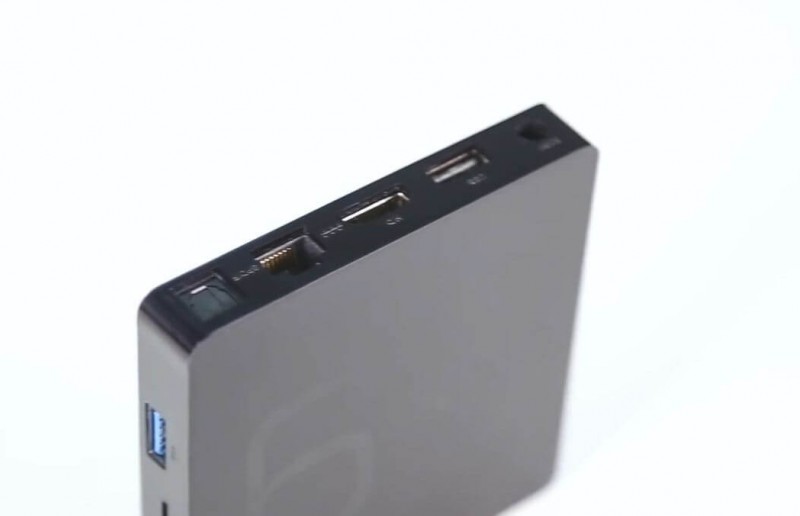 A total of USB 2.0 and USB 3.0 ports, an HDMI port, a LAN port and various analog outputs, as well as an SD card reader, DC in Port, DPDIF Port on the Beelink GS1 space.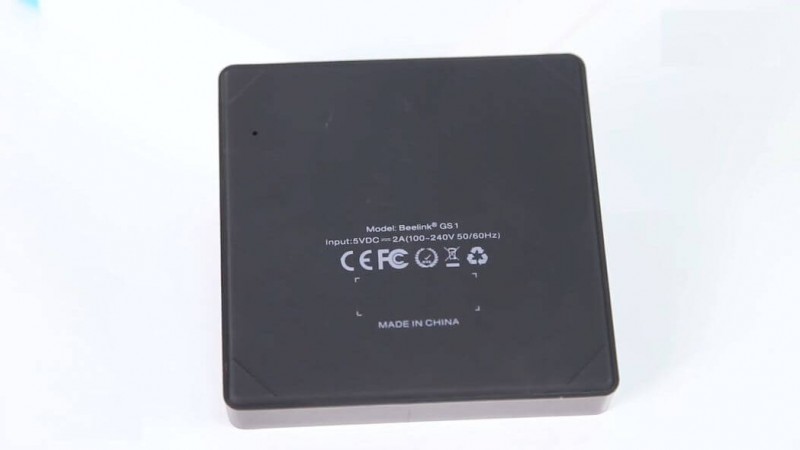 Of course, there is also the 5V power supply connection. If you want to tinker a bit, you can certainly build an adapter, so that you can supply the Beelink via USB with power (5V 2A).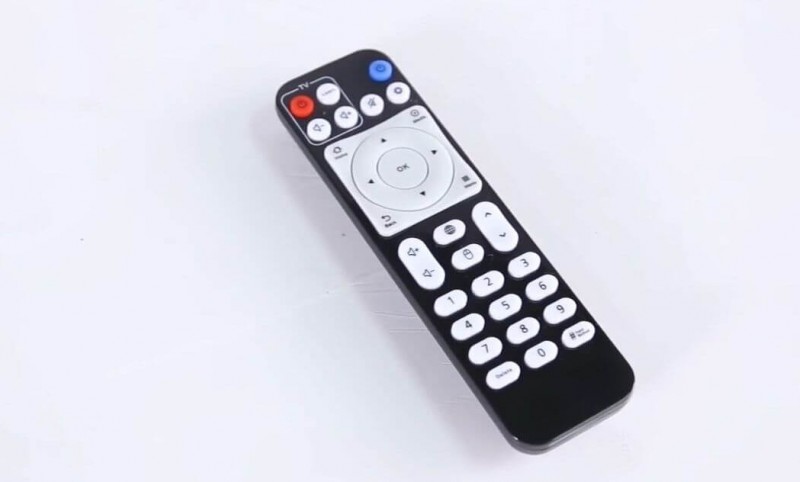 In general, the design of the Beelink GS1 in analisis is well executed and I would like to cancel that there are no ventilation holes in the device.
VIDEO AND AUDIO TEST
Video format test
We test the Beelink GS1 in the video playback area, the SoC Allwinner H6 that integrates a Mali-T720 GPU has good performance. In this model we find two interesting points, on the one hand the Allwinner Phoenix 3.0 VE Engine that allows us to decode H.265 and VP9 up to 4K@60fps natively and on the other hand we have the Smartcolor 3.0 DE Engine that is responsible for controlling the modes HDR as HLG and HDR10, although it does not support Dolby Vision. We install without problems KODI official from the Google Play store that behaves normally since it has hardware acceleration, in this model we do not have the specific version of KODI. As we see in our tests we can reproduce any type of 4K content without problems even in the most modern formats.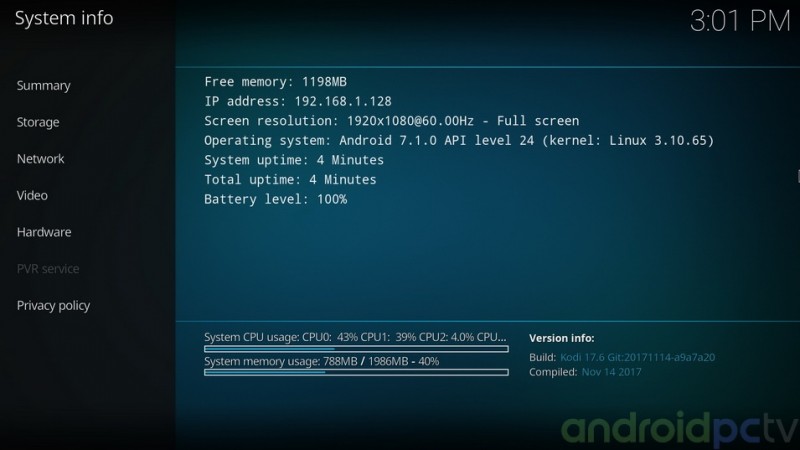 Test results
| | | |
| --- | --- | --- |
| H.264 format | Default player | KODI |
| BBB – H.264 8bit – 1080p@25fps – 7 Mbps | Correct | Correct |
| Birds – H.264 8bit – 1080p@24fps – 40 Mbps | Correct | Correct |
| Samsung Oceanic Life – H.264  8bit– 1080p@30fps – 40 Mbps | Correct | Correct |
| Anime – H.264 10bit – 1080p@24fps – 10 Mbps | Artifacts | Frame skip |
| Skyfall – H.264  8 bit – 4K@24fps – 10 Mbps | Correct | Correct |
| Timelapse – H.264 8bit – 4K@24fps – 43 Mbps | Correct | Correct |
| | | |
| H.265 format | | |
| Tears of steel – HVEC 8bit – 1080p@24fps – 17 Mbps | Correct | Correct |
| Beauty – HVEC 8bit – 4K@120fps – 12 Mbps | Correct | Correct |
| Anime – HVEC 10bit – 1080p@24fps – 21 Mbps | Correct | Correct |
| Samsung UHD Dubai – HVEC 10bit – 4K@24fps – 51 Mbps | Correct | Correct |
| | | |
| HDR format | | |
| Life of Pi HDR –  HVEC – 4K@24fps – 45 Mbps | Correct | Correct |
| TravelXP HDR HLG – HVEC – 4K@24fps – 20 Mbps | Correct | Correct |
| Planet Earth II – HDR HLG – HVEC 10L5 – 4K@25fps – 31 Mbps | Correct | Correct |
The MKV, Blu-ray ISO and BDRemux formats are only containers, inside we can have different codecs, resolutions, audio channels, chapters or subtitles. To play the Blu-ray format menus we need KODI or a compatible program.
Native player
The native player of the Beelink GS1 leaves much to be desired because in other models with SoC Allwinner H6 we have seen how this hardware is really used, here we have very few options and there is no sign of automatic refresh or fine adjustment of the image for brightness, contrast or saturation.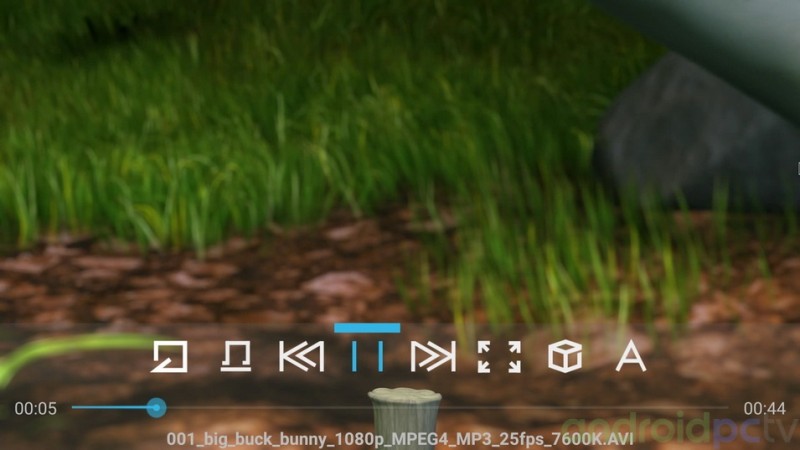 Audio format test
The Beelink GS1 has a Allwinner H6 SoC, this is a processor that is officially NOT licensed for the use of audio pass through for DD and DTS . For sound testing we use our Yamaha RXV-577 AV receiver and check that the device has audio pass through for DD and DTS 5.1, we have problems with KODI that not shows the passthrough audio menus, need a firmware fix.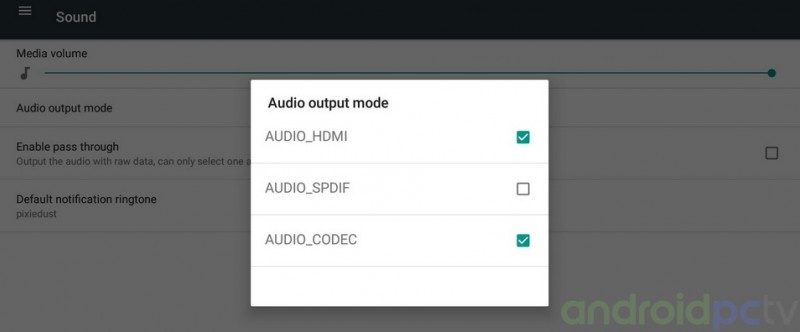 Test results
| | | | |
| --- | --- | --- | --- |
| Formato audio | PCM* | HDMI | Optical |
| Dolby Digital 5.1 | Correct | Correct | Correct |
| Dolby Digital Plus 7.1 | Correct | Core | Core |
| Dolby True HD 7.1 | Correct | Core | Core |
| Dolby Atmos 7.1 | Correct | PCM* | Core |
| DTS 5.1 | Correct | Correct | Correct |
| DTS-HD Master Audio 7.1 | Correct | Core | Core |
| DTS-HD High Resolution 7.1 | Correct | Core | Core |
| DTS-X 7.1 | Correct | Core * | Core |
PCM – Stereo downmix from DD or DTS
Core – Only the core of the format Dolby / DTS is played
* Our AV receiver does not support these native formats but we check that it does downmix fine